Owls don't migrate, do they? Because we have an owl in our neighborhood that seems to only be seasonal. It's really a wonderful thing when it's around - very comforting to hear the quiet hooting, off in some unspecified distance. Well, comforting if Kiko isn't outside; if she is, then I start to worry that she'll end up as owl chow.
Between the owl and my obsession with the mysterious mandarin* that appeared in Tappan Memorial Park last year, I'm starting to wonder if I might be an undiscovered birdwatcher? Undiscovered to myself, that is. It could also be that the local avian population has expanded in the last decade, so I'm simply responding to a change in my environment. Bear in mind that I grew up in this house, so I have close to forty years worth of observation on the types of bird life that you find around here. And I can tell you - it's changed. We didn't used to have cardinals or blue jays, and now they're all over the place. Ditto the owl - never one of those when I was a kid.
What did we have back in the 70's? Pigeons. That was pretty much the beginning and end of the variety. I remember visiting the zoo at Bear Mountain and seeing what they considered to be local birds, and being surprised because I'd never seen one (nor would I ever). Maybe that's because I didn't spend enough time in marshes?
Anyway, I'm loving the owl, the hoot of which - even if it's not a migratory bird - signals the arrival of autumn. He'll keep calling until winter settles in.
D.
*Maybe I've never blogged about the mandarin: for some reason, a lone member of an extravagant-looking duck species turned up in the park. Thankfully, the park is behind the library, so I was able to run in and look it up. Damn thing wasn't listed in five out of the six 'Birds of North America" books they had. But one small, unexplained illustration matched in, in a section called 'exotics.' Apparently, the thing is native to Asia, and there's a population of only about 20,000 of them. The best explanation I could come up with is that someone had brought it as a pet and it escaped. It tries to both befriend and dominate the local duck population, but it seems like they don't want anything to do with it.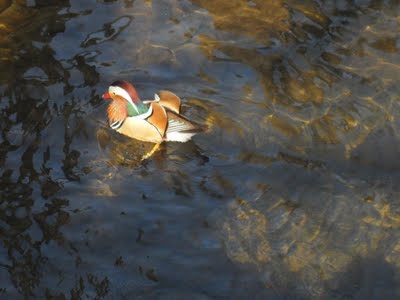 Beautiful, no?