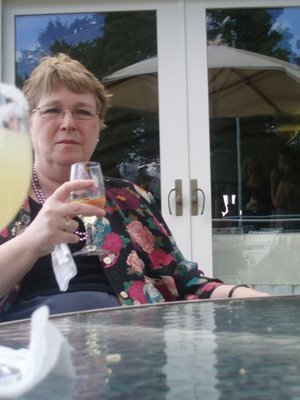 So, today - Friday - is my Mom's last day as a member of the working force. She's been with UPS as various computer-related things for 19 out of the last 20 years (or so). They had a retirement lunch for her on Wednesday, and I was glad to see the turn-out was pretty large. I know, free meal, but I got the feeling that everyone there held my Mom in high regard.
I do intend to write a longer post about Mom soon - not only is she retiring, and Mother's Day isn't too long ago, but her birthday is this Saturday, as well, and all of that adds up to a longer, more in-depth essay.
Suffice it to say in this shorter one that if ever there were anyone who deserves to have a great retirement, it's Sandra Kopperman (née Baldwin) - a woman who has taken the Yankee ethic of work to heart. In other words, she worked hard to build a good life for herself with a financially secure future, and she's got all of her interests lined up - opera, reading, trivia, language, art, travel, food - so that we're all pretty much going to be living in envy of her for the next few decades.
D.