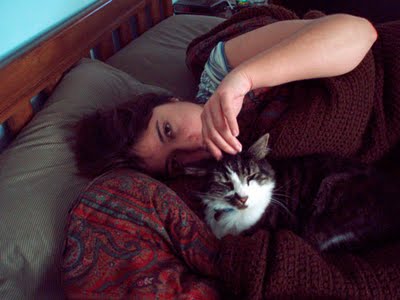 I'm not even going to pretend I have the strength for this afternoon. At 4 pm, I'm taking beloved cat Kiko to the vet to be euthanized. As it turns out, it's not the kind of thing you can prepare for - it's just the type of thing you have to go and do. In a way, I've either been blessed or led a sheltered life thus far, because this is the first time I've ever had to do anything like this - both make the decision to end her life and be the one to take her for it.
It is a kindness, I know, but the problem with animals is that they never see it that way. Kiko has always been a stress-case when it comes to visits to the vet, more so than any other cat we've ever had, and the thing I most hate to think of is that she's going to spend her last moments deeply stressed and anxious on the car ride and in the office itself. But her condition now is such that yesterday, I even wished that the vet could take her earlier. Not for my sake, for Kiko's.
The one relief from the feeling of guilt is knowing that Kiko - like a lot of animals - is (was) an eternal optimist. Sure, bad stuff has happened to her; trips to the vet, having a paw stepped on, having to deal with large crowds in
her
house, having to share space with other cats. But she never failed to forgive, and she always had faith that if she was fed once under a certain circumstance, then she could always be fed again when those circumstances recurred. But more, she always seemed to have faith in Yesenia and me, and the trusting faith of an animal is just a wonderful thing.
Whenever the vet would send cards to remind us to call for an appointment, the message at the top read 'Kiko loves you,' with the 'loves you' printed in and the name handwritten over a line (________________), making for a silly and insincere looking statement. But the thing is, I always believed it - the only people Kiko ever really bonded herself to were me and Yesenia, with all others viewed either at best as inconveniences who would occasionally feed her, or at worst objects of disdain.
Thankfully, it turns out that Yesenia is going to join me for this. Thankfully for me, at least. I guess the sight of two adults weeping in a veterinarians office says something about who we are as people, but the truth is that the core of ourselves as a couple - our favorite, most relaxed moments - were lying in bed, watching a movie, with Kiko there curled up next to one or the other of us (or smack between us). If I write as if we were losing a member of our very small family, it's because we are.
D.