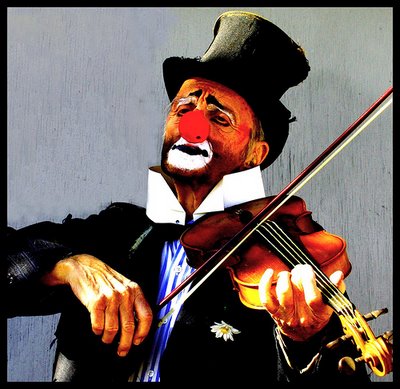 One of my personal developing themes of 2009 is the growing list of things that I don't know, but increasingly need to know, in order to just do my job properly or pursue my 'dream' of becoming a physics teacher. Obviously, I knew that going back to school was going to be all about learning stuff I didn't know - that was a given, and I was as emotionally prepared as I could be for it, and did well enough considering the constant stream of anxiety that testing puts me in.
But to have so much of my current job depend on knowing how to do all sorts of esoteric - to me! - web stuff. PHP, ASP, PL, etc. I know I often fall back on this as an excuse, but, goddammit, people, I have a BFA Illustration. How is it that I'm now somehow magically supposed to know how to deal with Unix/Linux Server Side issues? Is it not enough that I write all the radio and direct all the television and implement all the web design and all that other stuff?
Lordy, the stress. And as Karl and I were discussing earlier tonight - a lot of it is that I just don't
want
to know. Well, that's not exactly right in my case. I'd love to know, but I dread the activity of going through and somehow learning. Furthermore, I flat out
resent
that I can't just take my already pretty wide skill set and rest on my laurels and have a decent career. Is it not enough that I'm trying to learn Physics, Algebra, Trigonometry and fucking
Calculus,
but I also have to simultaneously figure out how to apply a search engine to a site and have a form deliver its contents to an email address and set up an e-commerce site?
Thing is, I actually really do enjoy web design. But like everything else in my life, when things get outside of my comfort zone, I seize up like a beaver in a petrified forest. The sites that I've done for my friends have been a lot of fun, even in the areas where I had to gain a lot of knowledge in order to achieve a desired effect. Things would certainly be easier if I could port that voracious need to learn over to my job.
Fuck it. I'd be happy if I could just remember how to do long division properly.
Anyway, I thought you all should know what's with the blockage on the Rambler recently, and that's it: making the mistake of not being born 5-7 years later, so my college education would have featured a good smattering of web design. I didn't even send an email until 1996, three years after I got my diploma.
Ach, poor timing. That's what all of life is - not just being in the right place at the right time, but knowing that you are at the time.
All right. This ends my whining. I'll bring back the entertainment later.
D.