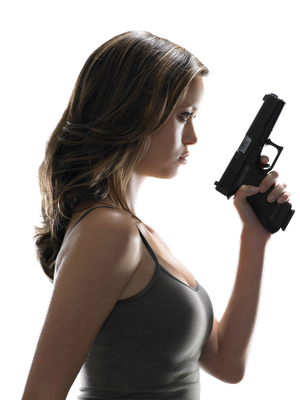 One of the only three network shows I currently watch (online, of course, meaning I'm part of the low-ratings problem) is
The Sarah Connor Chronicles.
I like it muchly. And it just ended on a big, crazy cliffhanger with little or no chance of being renewed by Fox. I mean, all it was missing was a cameo by Kyle Maclachlan intoning 'How's Annie?' to really drive home the point that I'm never, ever going to find out how this fucking thing turns out. And in another parallel to
Twin Peaks,
the upcoming Terminator movie will do nothing to address any outstanding plot points from the series. In fact, it will pretty much pretend that the series didn't exist, much like the majority of the TV-viewing public.
Looking back on it, the producers of the television show should have found a way to turn the 'Christian Bale Loses his Shit' meme from a few weeks back into promotional gold. Like, 'hey, OUR John Connor's not a power-tripping method actor having a vanity meltdown. And out Terminator is way hotter (see pic, above).'
Bah. The geek is sad, now. Mope, geek, mope.
D.