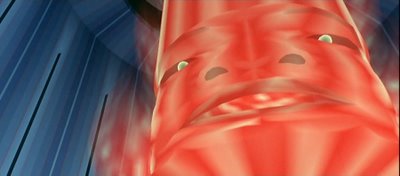 For some reason, in the shower this morning (@ 6:30), here was my stray thought:
The engine for the plot of the film
Tron
was a basic case of corporate thievery. In the film, Kevin Flynn (played by a pretty damn svelte Jeff Bridges) has been forcibly retired from pre-Microsoft hardware/software/wetware giant Encom by CEO Ed Dillinger (played by eternal villain David Warner). The reason? While an Encom employee a few years before, Flynn had nightowled a few video games to keep himself entertained. One morning, the files are missing - only to turn up as authored by then-fellow programmer Dillinger. Encom releases the games, which are a tremendous hit.
No wonder - the graphics are years ahead of what could be found in any arcade in 1982.
The details are a little vague, but with Dillinger providing Encom with a huge cash cow, he's promoted. Flynn now owns an arcade, and spends his nights hacking into the Encom system, trying to find evidence that the games were originally authored by him.
Standing guard against these hacks is a program that Dillinger actually
did
write: the system's Master Control Program. Flynn is an expert programmer, but he can't really get access to restricted memory because the MCP is all over him. See, the MCP is smart, ambitious and not more than a little devious. In fact, the MCP filched the game files in the first place. Perhaps its skill at strategy and need to control is a lingering aspect of its beginnings as a chess program.* Perhaps not.
In either case, Ed Dillinger is made CEO because of the success of the games. And then Flynn finds his proof, and Dillinger is fired and replaced with Flynn as Encom CEO. Yay! The end.
And there's the stupid geek thought that hit me this morning: uh, wouldn't having created the world's first artificial intelligence actually be a much, much greater accomplishment than writing a few damn videogames? In fact, never mind the exponential advancement of several sciences that would have been - even taking away the AI aspect, the MCP is an incredibly powerful OS, one which can monitor every aspect of the system and is very, very, very immune to hacks. In fact, the only way that Flynn can actually hack into it is to physically enter the computer. Because, oh, by the way, Encom has also developed the world's first matter transporter. And apparently has storage capacity decades beyond anyone else, since it can store Flynn, who would take up an estimated
1,000
terabytes of memory - just for his brain alone.
And on top of the world's best and most secure multi-lingual OS, fully integrated on proprietary terminals, which also happens to be the world's first fully-autonomous AI, and also on top of having made real the ability to move physical matter from one place to the other in a beam of light, and on top of having super-RAM up the wazoo, Encom has also developed touch-screen technology of the kind that's just now starting to be made into a reality; Dillinger's desk is essentially, a fully-realized version of Microsoft Surface. In 1982.
And their big cash cow is a bunch of fucking
Space Invaders
ripoffs?
No wonder Dillinger got booted. He was obviously a CEO who had his business model wedged firmly up his ass.
D.
*Never minding how a chess program eventually becomes an operating system. That's like finding out that Vista was developed from Minesweeper, or something.