For decades, Hershey's has been the premiere brand of mainstream American chocolate. And they have some real classics in their line; Reese's Peanut Butter Cups, for example. Kit Kats. But for some reason, one fairly basic chocolate variation has eluded them: Hershey's has never had an idea how to make mint chocolate.
Oh, they've tried. It's not as if they're unaware of this gaping hole in their product line. Sure, they market the York Peppermint Patty, but they don't manufacture it - it's on license from Peter Paul. But that's not enough. It's clear that they want a definitive mint chocolate that bears the Hershey's name. For years, every product they've test-marketed has avoided hitting that - forgive the pun - sweet spot for mint chocolate lovers. Either too sweet, or with a chemical taste, or not minty enough, or the wrong kind of mint.
In the past, mint chocolate from Hershey's has tasted of nothing more than desperation and flop sweat, and I can tell you, those are not ingredients a mint chocolate lover wants in their special treats. Nothing to compete with the Peppermint Patty, After Eights, Andes, or Junior Mints, or even the holy grail of mint chocolate, Russel Stover's Mint Dream (which I've heard favorably compared with Heroin). But still they try.
Mint chocolate lovers, are you sitting down? Hershey's just got it right. I give you: Hershey's Mint Truffle Kisses.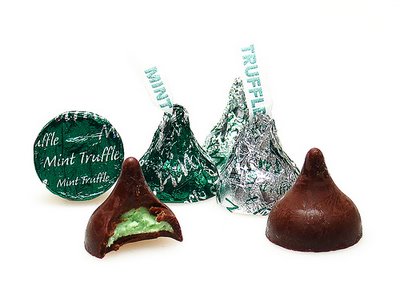 Nicely waxed dark chocolate with a firm consistency, perfect mint flavor in a creamy filling in exact proportions. I'm vaguely disappointed in the decision to tint the truffle a neon green, but I understand it from a marketing angle, and, really, it's not like this is something that I need to eat in more than one bite.
The holiday angle is nice, too - the green and silver wrappings look good sitting in a dish on the coffee table or sideboard. So break out the acne medication and buy yourself a bag. These things are pretty addictive.
D.