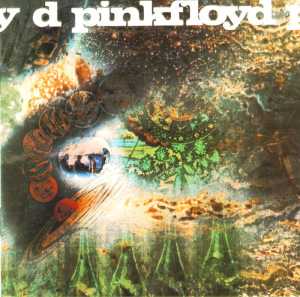 Pink Floyd • A Saucerful of Secrets
1968
The history of rock and roll is littered with albums that are figurative tombstones of the bands that imploded while making them. Frequently, the tensions in the studio end up producing something remarkable as a result. There are many examples -
Bridge Over Troubled Water
by Simon and Garfunkel;
Younger Than Yesterday
by The Byrds*; The Beatles'
White Album
and
Odyssey and Oracle
by The Zombies come to mind.
In fact, I can almost guarantee that if there's a band you like and an album of theirs has a particular resonance for you - not necessarily your favorite by them, but there's
something
about it - then if you were to read up on the making of the record, you'd see that the band itself was undergoing some major internal change, and no doubt a highly stressful period of external and internal pressures.
A Saucerful of Secrets
is practically a complete mausoleum in this regard - recorded while the chief songwriter and singer was being ousted from the band while simultaneously losing his mind and featuring seven schizophrenic tracks that all point to radically different possible futures for the band. In fact, the entire album is so fractured - but compelling in that very quality - that it's nearly impossible to review it as a cohesive whole. It's more like a collection of singles or studio outtakes, material that didn't quite fit on several years worth of albums.
But at the same time, all elements of the past and future Floyd are present here in every song, pure and unadulterated. So we're going to approach it from a track-by-track analysis - and see what made it in to the mixer as the group went from being
"The" Pink Floyd
into what FM radio thinks of simply as
Pink Floyd.
Track one:
Let There Be More Light
Written by Roger Waters/Sung by Rick Wright (verse) and Dave Gilmour (chorus)
The newly leaderless Floyd leads of with a track that clearly distills the idea of the live set for the record. It's really two completely different songs in one, both minimally written riff-based sections that bear little relation to each other beyond the fact that both sections are modal and feature a repetitive bass figure. Section A kicks off the album on its most energetic note, with a galloping octave bass riff (with a flatted seventh thrown in to give it a space blues feel) joined first by a slightly jazzy ride compliment from Mason that moves into a headlong tom rush and some aggressive atonal Farfisa from Wright, who moves it from a blues feel to a Middle Eastern one, shifting back and forth from F minor to F major.
After a little over a minute, a studio edit (masked by a big cymbal wash) brings in the second section, the vocal part of the song. Again, the bass sets the tempo, this time a slow repetitive four. The Farfisa retains its feel, now feeling eerie against the more open verse. The guitar is minimal, suggesting to me (at least) that the song was developed while the band was in flux, perhaps initially in rehearsals without either Barrett or Gilmour.
The lyric is inconsequential, obliquely describing a
Day The Earth Stood Still
encounter in Mildenhall. Still, the song is a good lead off, featuring strong playing from the three remaining members, and Gilmour's solo at the end - his first on record with the band - being a nice coda to the song as the pulsing beat gives way to big crashing whole notes on piano and cymbals. The Gilmour playing here is almost unrecognizable, seeing as how Gilmour came from a band (The Joker's Wild) that played mostly blues covers into a band that was very much into lengthy modal jams awash in echo that sometimes moved into pure noise.
This being the early days of stereo - hard to imagine that quad was only four years away! - the use of stereo is very experimental, with whole instruments wide left or wide right, and a secondary track of organ-led freak-out coming in and panning channel-to-channel with the drums and guitar.
So: the first Pink Floyd album to open with a headlong bass instrumental. When they revisited that idea on
Meddle,
it would yield the substantially more well-known
One of These Days.
Track Two:
Remember A Day
Written and Sung By Rick Wright
Wright obviously took it upon himself to continue in the pop vein that Syd Barrett had done so well, and which had paid off in the Floyd's two hit singles, both Barrett compositions -
Arnold Layne
and
See Emily Play.
Remember A Day
had, in fact, been recorded for
Piper at the Gates of Dawn,
and would have been a more seamless fit with that album's English Pastoral on Acid vibe. Barrett plays the atmospheric slide that moves through the piece, which has a very organic blending of the Floyd's light feel and their tribal freak-outs. There's also some very nice acoustic acoustic in the quieter sections that come before each chorus, which I presume are Gilmour - which makes the song nearly unique in the Floyd catalog as having both Gilmour and Barrett contributing to the same track.
It's very much a song, it marked contrast to the open modal jams of preceding track and the track which follows it,
Set the Controls for the Heart of the Sun.
And here's the odd thing: it's also stronger lyrically, which goes against the general storyline of Pink Floyd. Where both the Waters lyrics are spacey and inconsequential, Wright picks a theme with some emotion and manages to convey it clearly. In fact, both of Wright's contributions to
Saucerful
focus on the same theme, a wistful look back at childhood, touched with the melancholy of knowing it's gone for good:
Remember a day before today
A day when you were young
Free to play along with time
Evening never comes

Sing a song that can't be sung
Without the morning's kiss
Queen, you shall be it if you wish
Look for your king
Why can't we play today
Why can't we stay that way

Climb your favourite apple tree
Try to catch the sun
Hide from your little brother's gun
Dream yourself away
Why can't we reach the sun
Why can't we blow the years away

Blow away...
Remember.
Bear in mind that Wright was all of 22 when he wrote those words.
As with most of Wright's more pop oriented songs, he moves away from his Farfisa and Binson Echorec and accompanies his vocal with a very gentle and open piano, even going so far as to play the chorus with a free tinkling. The song overall is drenched in (too much) reverb, and the vocal isn't quite up to the task of singing the very nice melody, but it does add to the plaintive, aching quality of the song.
Track Three:
Set the Controls for the Heart of the Sun
Written and Sung By Roger Waters
The album's first taste of the Floyd sound that would dominate their live shows for the next five years - in fact, the song itself was played through 1973, even along side the complete
Dark Side of the Moon.
Like
Let There Be More Light,
the vocal melody is a direct parallel of the bass line, which is in turn harmonized by some ethereal Farfisa. Again, the lyric is light as air, an assemblage of images that's clearly meant to set a mood than to lead to a concrete meaning - and, in fact, were mostly cribbed from a T'ang Dynasty era book of poetry. But they work perfectly, put just right in the mix to the point that the vocal and bass share such a similar tone and timbre that they feel like one instrument, and Waters' slurred delivery gives the whole thing a beautifully meditative quality that's borne aloft by Mason's tom and beater work.
The whole thing seems evocative to me of a sunrise service at a seaside Taoist temple, designed to drive the listener inward: Someone plays a spare and jazzy Vibraphone (I'd guess Wright, but you never know) AND a trippy chromatic Xylophone, and the Floyd's gong can be heard pulsing away in the background. At 1:30, something almost like a bullroarer makes a brief appearance - and at the end, seagulls can be heard, panning from left to right.
The track is excellent ear candy, and just about the best mix on the album - perfectly complementing the tight and controlled playing from the full band. Even the two or three completely obvious tape edits in the song's central jam feel right, as if the listener's mind had slipped. Again, the track features both Gilmour and Barrett, but the guitar presence is quite minimal, mostly relegated to background wah-wah atmospherics.
Next: More S.O.S.
*The Byrds are a particularly interesting example, because the late 60's saw them in such a state of flux with a major member either arriving or departing with each album that four albums in a row have that desperate, seeking quality to them - each being a landmark in its own way.