As noted earlier, over the weekend, I went up to Maine and accompanied my friend a
Putnam Smith
for a show of his as the
North Star Café,
in Portland. We were the middle act, so I decided to take the opportunity to sketch the opening and closing acts.
The opener was
Brooke Brown-Saracino,
a young singer-songwriter with a sweet voice and what she essentially described as a suicidal set of songs. She swapped back and forth between steel-string acoustic and an old ukulele, with the guitar being a little big for her and the uke (as is seemingly its job) being comically small.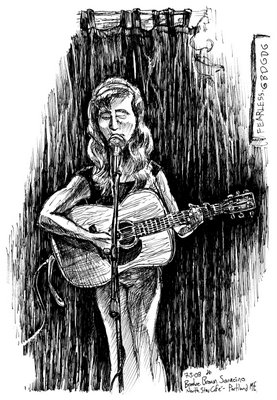 Don't forget to click the pictures for big goodness!
I filled in the bulk of the curtains later on, just to give the drawing more heft. I'll probably send her a copy - before her set, I asked to buy a copy of her CD, and she said that she preferred to trade, so I took a copy of her CD with the promise that I would mail her
Selling the Downtown Dream.
I hope I made it clear to her that Copper Man - while plenty whiny and depressing - was not folk music, so the trade might be uneven from her POV. I'm glad I had her CD, though - it kept me company for the Maine and New Hampshire legs of my drive back on Sunday night. Good voice, nice tunes.
Above her, you can see a little bit of the Putnam sketch I started before deciding to more fully render the drawing of Brooke, as well as a little note to myself about the tuning for a folksy arrangement of Pink Floyd's
Fearless
that I was playing around with a few months back. I was trying to show it to Putnam, but it had been long enough that I'd forgotten the tuning and most of the picking style and had to relearn it. This time, at Putt's suggestion, I wrote the damn tuning down. I also made a quick GarageBand recording of it, with Putt playing some fiddle, which I'll give a listen to and see if it's worth posting at any point.
The closing act was a band led by and named for lead singer/guitarist/songwriter
Christian Cuff,
who had a line up consisting of himself on steel-string acoustic, a stand-up bass, a cellist, and - in case you can't tell from the drawing, a didgeridoo player. I realize the sketch is kind of... well, sketchy, but I challenge anyone to do a fully photo-realist oil painting of this band and make it clear that those two log-like things were didgeridoos. It's just not a concept that leaps easily to the Western eye.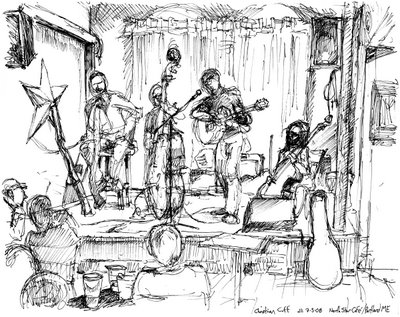 Obviously, no rendering on this one - the goal was to get all of the scene in. Apologies to the cellist. In reality, she's a pretty girl of Asian descent, and was not - contrary to the evidence presented in this drawing - wearing some kind of Martian Death Mask on stage. Still, the didgeridoo player liked it enough that he requested I email him a copy. Perhaps he was drunk?
D.