Well, we opened my RISD transcript, today, and it turns out that I did slightly better that I'd feared. Very, very slightly: my GPA was 2.73. And I can tell you that a lot of it was largely deserved: I was, for the first couple of years at RISD, a lackluster student. Not, I should point out, a lackluster artist - but I was up against both my own social awkwardness and my sudden application of lousy work ethic to art homework. When in high school, I blew off all other work to focus on doodling and drawing constantly - I was very focused and productive. But when all of your homework suddenly becomes art homework, it's no longer the escape. It's then the thing that you need to escape from.
Little wonder that I started to seriously become a musician when I got to RISD.
The thing that turns my crank is that I actually got a 'D' in Drawing, in my first semester of Sophomore year. Which is, if you'll excuse my ego trip, fucking outrageous. There are few things I'm good at: I can't work in color for shit, so a 'C' in painting is justly deserved. In art school, you don't get points 'for trying.' I can't design so well (although I make my living at it), I'm a pretty poor photographer (to my endless chagrin) and I definitely can't sculpt to save my life. Yet I received an 'A-' in Design, a 'B+' in Photography, and even a 'B' in Sculpture.
But.
I
can
fucking
draw.
And I could draw much, much better when I was 18 than I can now. So, unless I blew off every single assignment and then raped the male model during life drawing, I can't even imagine what the insane requirements were for getting on in that class. I can't even rage against the teacher so much: Mahler Ryder was (unbeknownst to us) dying from cancer while teaching the class, and in fact, died sometime the following semester.
I suppose it would be easy to blame my lousy grade on his deathbed crankiness, but I understand that he was just a harsh grader all the time. I wish I could remember the class better - I do know that I was given an seriously hard time for my figure drawing, being that I was a cartoonist and exaggerator well above being an illustrator. But even still: I've seen my figure drawings from that period and there's no way it's 'D' work.
But maybe that
was
it. I do recall a pretty strong bias against cartooning in the Illustration department. Of course, now RISD actually offers something they call a 'certificate in Comics & Sequential Art' - fucked if I know how that differs from a BFA in Comics - so I'm guessing that some of that bias has gone away. But I got seriously pounded in critique - by both teachers and students - anytime I turned in an assignment in my cartoony style. Doubly so if it was in pen and ink, which is kind of the bastard step-child of drawing media in general, and one that gets little respect anymore.
(I see that I received a 'C' in
Pen & Ink Scratchboard
second semester of my Junior Year, so ha-ha on me.)
Anyhow, I'm glad to see that my major, major hang-ups about drawing after I graduated from RISD were, at least, justified. No wonder I gave it up for over a decade; who amongst us likes to be told that the thing that they believe they're best at and most passionate about in this world is in fact the thing they suck at
most?
And to add insult to injury to insult, I stupidly neglected to get with the program and still insisted on doing my senior thesis as a comic in my full-on Dave style. I knew I was in for it when the one guy among the review group who was at all familiar with comics told me that I should do it more like what he took to be the pinnacle of the form, a syndicated strip named
Apartment 3-G.
I ask you: if you're presented with
this: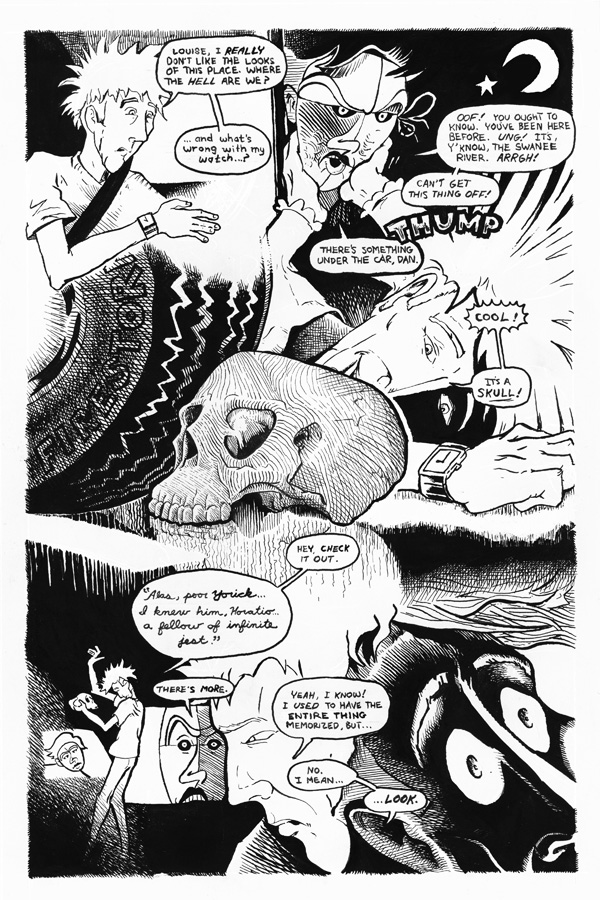 Do you say to yourself and the person who made it, 'No, no, you're doing it all wrong. You should draw it like
this:'

Jiminy Fucking Crickets on a Slice of Christsucking Motherfisting Rye Toast.
And for my senior thesis? That's a 'C+' you're looking at, right there. All 40 pages of it.
D.