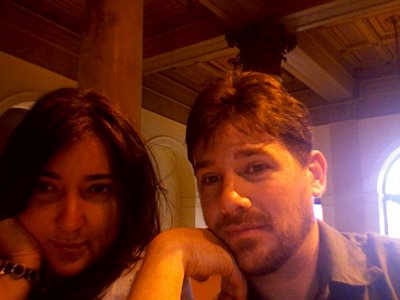 A short note from the road - or, rather, from the big-ass new library that RISD has, built out of the carcass of the old (old!) Hospital Trust building in what used to be hideous but is now truly lovely Downtown Providence.
That's right: Rhode Island, again! Got a problem with that? Yesenia and I have the old summer camp down in Coventry to ourselves (photo to come), and we're basically bumming around the state. The only official business I had is already done, and it's the reason we're on campus in the first place - picking up a copy of my RISD transcript. It's sealed, and I'll admit to having some interest in what the contents have to say, but in a kind of rubbernecking way. I know I had a less-than-stellar academic career while at RISD, and I don't think it will make me happy to be shown proof-by-numbers after all these years. Especially when I've clearly gone to so much trouble to bury that information in the back of my brain.
Is it possible that I had a GPA of 2.6? That figure is looming mockingly familiar when I try to think back on it.
Oh, well. I guess I'll find out soon enough.
Perhaps traveling companion/sex slave/wife Yesenia has something to add about the trip so far? Yesenia?
Hi folks, Yesenia here. Well we almost had an emergency on I-95 last night as I choked on a mouthful of water. According to Dave, all he could hear was gurgling and all I remember is not be able to breathe, but all is well now. Johnson's Pond has not lost its charm. I always seem to forget how gorgeous it really is until we arrive. It's kind of quiet at camp, which is bizarre for July, but at the same time also nice to have the place to ourselves.

Just a little advice: if you ever decide to come to Providence with Dave, don't let him drive. You'll end up with vertigo.

Well, kids, it's been fun, but the Koppermans must continue with our adventure. More from the road later...rock on!!
Yeah, the water thing was a little scary. Sort of a choking/coughing/drowned sound that went on and on.
I would be perfectly happy to let Yesenia drive, BTW. Just pointing that out. And I drive Providence like a fucking pro.
D.