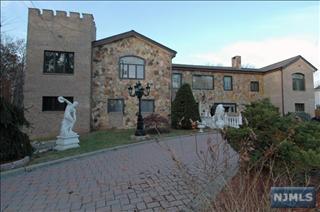 A notable home in the Jersey town of Old Tappan - just across the border from me - went on sale this week. I say 'notable' not because of the owners (although they're either Greek importers or Mafia, depending on who you ask). I say 'notable' because you cannot drive past this beaustrosity and fail to have your eyes seared by it.
For years, it was only the impression from outside - but the bizarre jumble of styles and complete over-the-top statuary in front suggests that neither money nor taste nor even a clean bill of mental health were impediments to its construction. But, thanks to the miracle of the internet and the subset miracle of realtors with digital cameras and access to web servers, I can now share with you this work of genuine architectural harikari. And the photos of the interior do not disappoint. The curb appeal continues all the way down, and it is
sweet.
I swear, the state of New Jersey should buy this place and open it to the public as a museum, as Westchester has its Lyndhurst, San Simeon its Hearst Castle, and Hyde Park its Springwood.
Bergen County historical board: I beseech you to acquire and maintain this treasure as an ode to the style known either as "Old Tappan Crazy" or "Faux-Modern Wincing." These rooms can not be allowed to return to private hands, to the person with $9m in pocket, and be forever locked away from public view.
Sure, James Lileks has his "Gobbler." But, ladies and gentlemen, I am proud to present Jersey's finest: The Prongthenon.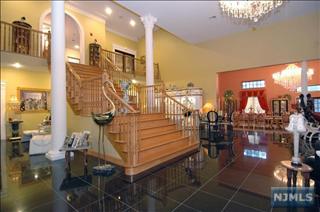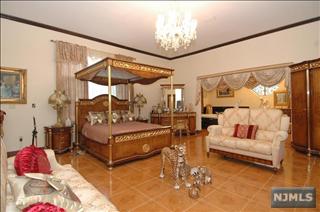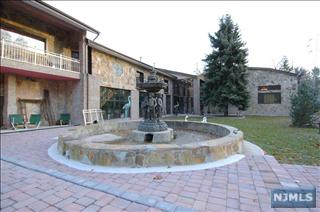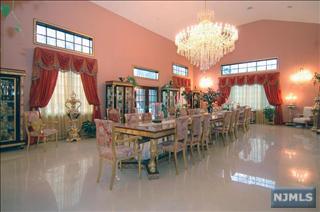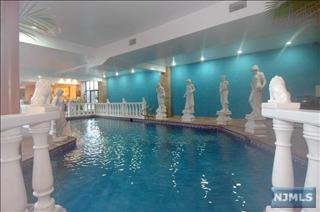 Note the telling details, like the chalk-white Corinthian columns in the main hall, reflected and contrasted in the polished obsidian tiles. Or the subtle thematic repetition of the chandelier in every room. Or the... oh, sweet Jesus... the stuffed cheetah placed at random in the middle of the guest bedroom. That just positively screams "class."
Actually, it damn well
bellows
"class," while simultaneously bashing you in the frontal lobe repeatedly with a flame-hardened Louisville Slugger that has the word "class" painstakingly carved into the business end with an ornate ceremonial dagger.
Seriously: at what point does the aesthetic sense atrophy enough to allow you to live in a place like this? When does it happen that you feel the need to live in Liberace's mausoleum? Is there a DSM-IV diagnosis for such a condition? Does your brain make a 'ping' sound at that moment, like it's been cooking for long enough and now it's done? Is it possible that this is all just the world's biggest practical joke by the world's richest practical joker? Is Reggie Van Dough just waiting in the wings with a video camera, ready to catch Richie Rich in the act of buying this compound?
Here's what the
listing
has to say:
"IN AN UNDERSTATED SURROUNDING, THIS EXTRAODINARY HOUSE EXISTS, FULL OF INCREDIBLE BEAUTY. LAVISH USE OF MARBLE, BEAUTIFUL WOODS. INDOOR POOL, TENNIS COURT, THEATER, CABANA. THIS HOME HAS IT ALL. SEE FACT SHEET FOR DETAILS. 18 ROOMS, 10 BRS, 15 BTHS. ALL SET ON 2.8 ACRES"
All I can say is, I'm glad they're reinforcing that the house 'exists,' because it means that even the realtors have a hard time believing it does.
The best part of all, though, is the thing that's being conveniently cropped out of that exterior shot: right in the front yard sits an electrical tower. And I don't mean those pissant ones that try to blend in with the landscape - I'm talking one of the triumphant jobs that's clearly built to catapult voltage from here to Ohio.
Seriously: the electrical tower is easily 70 feet tall. Visible from the surface of Europa with a halfway decent pair of opera glasses. So, maybe 15 bathrooms and an indoor pool and a tennis court and and indoor theater and everything else from the lap of luxury can make you overlook the perversion of the senses that is the decor. But who in their right mind is going to lay down nine million dollars for a house with an electrical tower right next to the statue of the discus thrower?
There's only one person I can think of that's that kind of crazy - and, sadly for them, they're the one selling the place.
D.