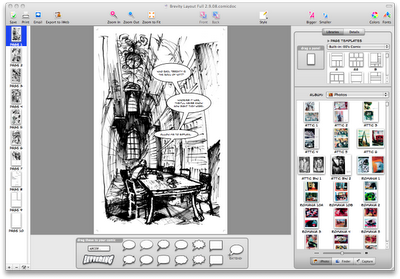 I'm not sure if I've mentioned it here before, but I just wanted to sing the praises of
Plasq's Comic Life -
a playtime application for putting together comics pages with photos from your digital library that's so well designed that it actually turns out to be the best method of putting together layouts quickly. A real boon to productivity.
While not powerful enough to do full, finished pages, in terms of a place to assemble sketches and throw dialogue down and get the story moving past whatever mental roadblock you're staring down, I find I can put layouts together in record time.
Of course, my hang-ups were always in the storytelling department in comics - my finishes look great, but sometimes are hard to read to the degree that the point is lost. By being able to solve all of those problems in a low-labor environment like
Comic Life,
I can save enough energy for the final page. For cartoonists who excel at storytelling but might find polish to be more difficult,
Comic Life
will prove kind of pointless. Maybe a fun distraction, but in no way a valuable addition to the process. But for me, it's ideal - the right tool at the right time.
Perhaps I'll now invest the ten bucks in getting my lettering made into a font over at
Fontifier
, a neat service pointed out to me by Dave Zapanta (the creator of
Hairbat,
linked to over in the links for your convenience). And
Comic Life
was shown to me by Kalliope, so I can claim to have discovered nothing on my own.
D.