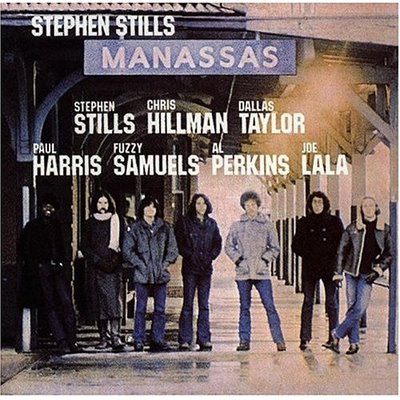 One trip I always make sure to make while in Rhode Island is a visit to one of my favorite of all used record and CD stores, Round Again Records, over on Wickenden Street. And so we did, and I picked up about twenty records, most from the 3/$1.00 bin.
One of those was an album I've been really interested to hear for quite a while:
Manassas,
sort of a supergroup effort cum solo Stephen Stills album. And I should say in advance of this that Stills's star has been laying pretty low for me the last few years.
And upon listening to this: the man is, for the most part, a hack who peaked early. I'd swear to God, there isn't a single song on here that doesn't feature the word 'girl' intoned over and over again. It's a pretty rare thing for me to get offended by, but this album did the trick: Stills's half-assed hippy sexism is genuinely offensive, especially when spread out over four album sides.
That's right -
Manassas
is a double album. Really, I didn't even get to side four. I listened to sides 1-3 while assembling some prefab furniture, and as soon as I was done with that, I shut down the stereo. By that point, the only two bright spots on the album had passed - two songs co-written and with partial lead vocals from Chris Hillman, who really is the selling point here, for me. And he does class up the joint - his Flying Burrito Bros. and bluegrass pedigree bringing a desperately needed note of authenticity to some of the most synthetic country-rock I've ever heard. But even Hillman can't save this thing.
All of side two is given over to some kind of weird straight-up country jamboree, but all of the pedal steel and mandolin in the world can't transform Stills's bloated arena ballads into warm, living country tunes. And by 1972 - the year
Manassas
was released, Stills's lyrics had passed into a post
Love the One You're With
self-parody from which he never recovered. And for those who wonder why I'm focusing so much on the lyrical content? It's because there isn't a single memorable melody to be found over the course of the record. Painful to hear how a once skilled and soulful writer squandered his gift.
And really, the backing tracks are just dull. Maybe it was too much music to learn and process for the band in the allotted recording time, maybe Stills dictated arrangements, maybe everyone was just collecting a paycheck, but whatever the reason, aside from having the usual early seventies totally tasty engineering, there's no life to be found even in the very samey playing over the entire set.
Really, the only enjoyable song is the Hillman co-written
Both of Us (Bound to Lose)
that closes out side one - and even that doesn't get where it promises to go, because Stills comes in halfway through and "Girl, be my girl, drifter girl's!" up the joint.
D.