So, not going away this weekend. Really, it's a good thing, because I would have had to haul ass, and given my very rare under-the-wetaherness - not quite a cold, not quite a stomach complaint, but something just not quite right, either - I would have probably made myself a lot sicker. So that will be next weekend, and I'll be good and rested and hopefully have a much lighter work week next week so that I don't keep myself at this extra-stress level for two weeks running.
In the meantime, here's my
Vomit Comic
from this week's class:
(Click that image for the same image, only bigger)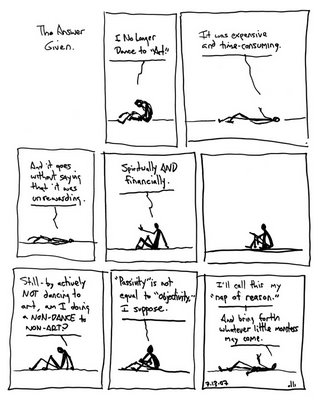 Really, I'm not sure how the title relates, but I put it there in small letters on the upper left corner, and it sparked this low-key homage.
For those who don't get the reference: Jules Feiffer did a recurring feature in his eponymous strip featuring a gangly woman who danced to all sorts of things. I'm not sure if she ever really
did
dance to art, but I'm sure that somewhere in the thousands of weekly strips he's accumulated over the decades, there's been at least one.
It should be pretty obvious that this strip is about as close to an essay as I actually get, so you can just go ahead and call it the real content of tonight's rambler.
Good night.
D.