So, here's the stuff I put together for KPMG last night. Two strips and some character sketches.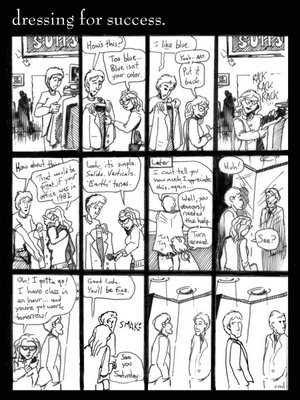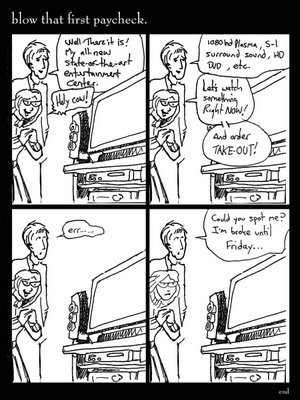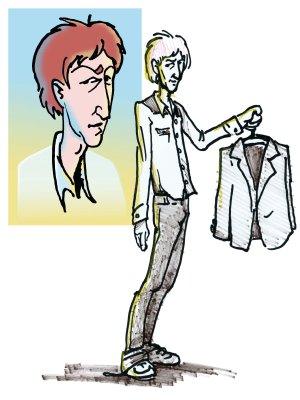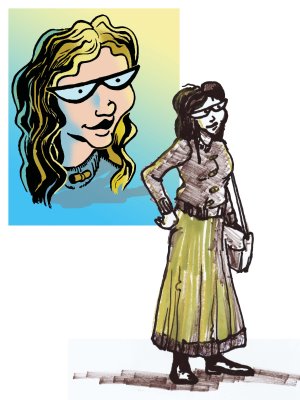 A little necessary info: these are one-page strips intended for the back page of a publication that KPMG (again, the global accountancy firm) is distributing to college campuses across the U.S. to recruit new 'talent.'
I like them, even though it's to a theme. Since it's been fifteen years since I was in college myself, I read a couple of Jessica Abel collections to give myself the slice-of-life flavor I wanted in the clothes-shopping strip. The other strip, I figured I'd just do a straight-forward punchline set-up and delivery. Hopefully, it's not too forced.
Curiously, the lead designer was sort of disquieted when he saw the strips. I was able to piece together that he expected to see finished work along the lines of what was in my portfolio - which is totally bizarre, when you consider that these things were absolutely intended as first-draft offerings, and so by nature would not have any labor-intensive finish to them whatsoever. Lord knows what he was expecting: a completely finished full-color strip, that I would then redraw completely from scratch when someone didn't feel it matched? I'd say the odd answer is yes, and it's weird that the lead DESIGNER would expect work of that level for a first draft. Obviously, he knows a lot about design process but very little about illustration in general or comics in particular.
I guess that's Illustrator, Photoshop, Quark, et al., that's skewed people's perspectives on things like this - when your first comp can look like the finished version, everyone expects perfection from the start.
Not like I'm complaining. It's the desktop publishing revolution that has given me a career.
Anyway, Yesenia liked them both very much, which totally brightened my day, I must add.
The two characters are, of course, myself and Yesenia. The Dave stand-in is yet another variation on Dan Miller from
At the End of the World with my Sister,
not necessarily because I'm into self-plagarism (although Dan himself was a variation on an earlier character of mine, Hammond Cheese, Private Eye), but because when I do work like this where I figure I'm going to be drawing a lot of one character and I want to keep them on-model, I like to make it as easy on myself as possible. When I'm drawing a variation of a character I've been drawing in one form or other since 1986, I can focus on storytelling and polish, and just let the characters 'act.'
Anyway, more on this as it develops.
D.