Your Weekend Listening • 4.26.08
Rockland County
I was really casting about for what song to really launch this feature (given that the previous two entries were a cover and a much older entry from the previous version of the site), and this was the one that settled it.
Rockland County
was the lead song from the only Copper Man studio album,
Selling the Downtown Dream.
Right there, that statement's a little inaccurate - it's preceded by the first iteration of the album's 'theme,' a Disneyesque tune (which I think we originally called "Disney") named
When I Was Young.
I'll do an entry about that at some point, but the idea was that - in classic concept album style - a single instrument would play the main theme, and then the band would launch into the first real 'song.' We settled on acoustic guitar, which launched right into
Rockland County,
in hopes that the solo acoustic would segue nicely into the rhythm acoustic. Who knows if it did?
Anyway, Shaun Johnsen played the intro acoustic for
When I Was Young
(which isn't posted here) and then the electric on
Rockland County,
with Edz O'Leary on drums, and I played acoustic guitar, bass, tambourine and Hammond, and sang lead and harmonies:
There isn't that much to say about the song as a song, I think - whatever was needed to be said was probably expressed best in the lyric:
I grew up out there in Rockland County
That's where I put myself.
I drew a picture of a pretty girl, there,
but she tore it up.

To pass the time, we drive around there.
There's nothing else to do.
Roll down the windows and pass the houses
You don't need it, now.

My, funny how you've grown.
I can't explain it.
You run, but you just can't make it.
You try, but you overshoot your mark.
I sympathize, but you know you and I disagree on this part.

Are you still searching for what you're after?
I know that look too well.
They programmed me to answer to my failure,
so I forgive myself.

There's no rocking in Rockland County...
There's just no reason left.
Please turn the lights out in Rockland County,
if you're the last one out.

Please turn the lights out...
As the lead song on the album (a loose concept piece on being a geeky suburban kid drawn to try to play the rocker in NYC in the age of the Strokes),
Rockland County
is probably the most directly autobiographical lyric on the album. Many of the following song lyrics were projections, borrowed from others' experiences or outright fabrications, but I felt like we needed something pretty true and heartfelt to get us into the cycle. The first verse alludes directly to a fight I'd had with my then fiancé (now wife) Yesenia - and it did go exactly as described. Here's the proof, taped back together and mostly Photoshopped clean: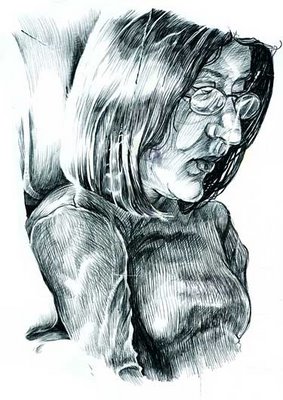 The song was recorded at Ryan Ball's Checkmate Studio, with the recording done between 2002/2003 when he was located in Suffern, and the mixing done to 2" tape (hey! DAD!) after he'd moved to Paramus, NJ.
I'd be remiss if I neglected to mention the contribution of a guitar player named Elliott (don't know his last name!) who we played with briefly before Shaun joined up - the way he played the main riff really stuck with me, and his style ended up in the arrangement, and even more importantly, he added the
Sunday, Bloody Sunday
chime in the verses, which is definitely 'a hook,' as they say. Elliott only lasted a very short while - turned out he wanted to be paid! - but he left his mark on that song and a couple of others from the album.
I should also mention Ryan Kaplan, who was the rhythm guitar player at the time the song was composed. Although Ryan didn't have any writing or arranging input on the song - beyond the Americaesque rhythm part on the coda - there's no doubt in my mind that his mere presence in the band affected my writing of it. In fact, he was mostly absent from the practices when we were working on it, caught up in all sorts of life-craziness at the time, and that seemed perfectly in theme with the song.
Ryan was also from Rockland, and at the time, we jokingly called ourselves "Rockland's Finest." Ryan went so far as to have that inscribed on a knife along with the band logo by the knife manufacturer he worked for.
It was pretty much the last song of mine we really tried with him in the band, as I'd been less and less convinced that the pairing of our writing styles was working well. Ryan's absence from the recording of it - when it had been conceived initially as part of an album that would feature an equal half of his compositions - somehow is the most noticeable part of the final version.
With that in mind, I present a live version, at Olive's in Nyack on June 28th, 2002. The only concert Copper Man ever played as the four-piece with Ryan on rhythm guitar and hamony vocals, and Shaun on lead guitar (Edz, as always, great on drums), and the only live version to be played in Rockland County. This dates from before the studio recording, at a time when the song was called 'Lights Out.' I dropped that title in annoyance when Lisa Marie Presley came out with a song of the same name and similar theme after I'd finished the lyric. Oh, well. I at least have the satisfaction of knowing that her song probably didn't do that much better than ours...
I believe a good part of the crowd there that night was in town for Ryan's 10th high-school anniversary, which (to me) gives the song an extra punch.
Tech notes: recorded with two mics to four-track by Christian and then later digitized by Karl. Undoubtedly, I mastered it myself on my old, dying G3 with a cracked copy of Peak.
Have a good weekend, and I'll see you here Monday.
D.