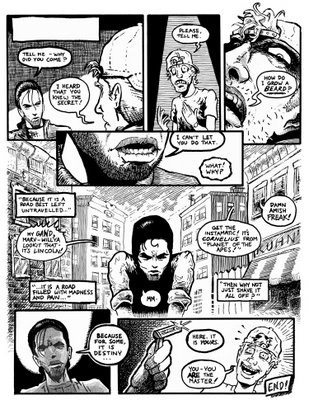 The comic written and pencilled by Dave Zapanta, inked and lettered by me. With about a 12-year gestation period. As usual, clicking on it gives you a closer look. Note: the title still needs to go on, but I'm leaving that to Dave.
Also saw some of the pages that I gave Dave to ink back in that same time frame, and they do look beautiful, even though they're only around 40% finished.
[Note: No art, huh? Blogger is being funky tonight, so I'll try to upload in the morning. Check back later.]
Updated, 4.6.08: Still nothing. Screw it - here's a link.
Updated, 4.7.07: There we go. Turns out it was my host, and not Blogger after all. Sorry, Blogger.
D.