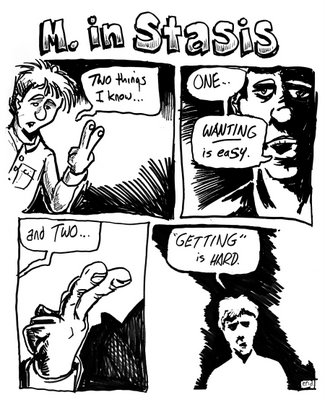 Well, the comic class is in swing again, so that means it's high time for the return of everyone's favorite recurring Rambler feature - the
Vomit Comics!
That's right - those fifteen minute wonders, the comics exercise that separates the men from the cartoonists, the completely obscure telegram from the unconscious, totally unfiltered and delivered right from your lizard brain to the page, because, hey, in fifteen minutes, who has time to
think
about what they're doing?
This entry is about as obscure as they come. I have no idea where the title came from, although at least I can see that it has some oblique reference to the strip; often, they have no connection whatsoever. Here, we can see that 'M.' is clearly having some kind of spiritual crisis. Presumably, this wisdom that he's come away with will help him break out of his current state of ennui.
Gee, I wonder if this is autobiographical in any way?
One of the students noted that the comic is drawn in (at least) four different styles. It's true, but it's not by design. That would take effort.
D.