Yesenia and I went off for a quick (and surprisingly expensive) away mission - excuse me, trip - to Connecticut and Rhode Island this weekend. We did enjoy ourselves, and it was a much needed escape from routine and responsibility and all that other adult stuff. Still, noting to write home about, as they say.
No pictures, even, since our digital camera has failed to such an extent that we didn't even bring it, opting instead to pick up a disposable film camera on the trip. If anything comes out, I'll post, or Flickr, or Zap, or whatever. Of course, since a good part of the trip just consisted of eating (between stays at sketchy motels), I'm not sure just how thrilling the images would be.
The trip did contain my first (and Yesenia's, too) trip to Yale's Peabody Museum, a small and manageable natural history museum with a world-class fossil and paleontology department. And at $6 per adult and no doubt much less for kids, I'd recommend it way, way above New York's Natural History Museum, which is crowded, expensive and depressingly unfocused in comparison.
Of course, the big thing to see at the Peabody are their justly famous
Dinosaur
and
Mammal
murals. Probably a bit outdated now, but sometimes diorama scenics of this type are elevated beyond their time to become genuine works of art in their own right. The other highlight at the Peabody was a temporary show of the arts of Mexico, from 8 billion BC to the present day. Obviously, it was something of a brief survey. But the small selection of 20th century work did contain one pleasant surprise - a graphic artist with leftist political leanings (yes, apparently being a Marxist was synonymous with being an artist in 20th century Mexico) named Leopoldo Mendez. Stunning, direct, assured, evocative and electric work. I intend to get me some.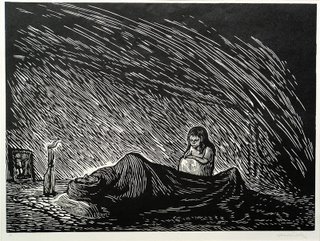 D.