There are little maple trees all over the yard. In gutters, under small piles of leaves, in the garden. Hundreds of them. This is not an exaggeration. And I suspect this is going on all over the Northeast. Apparently, it's forest season. And I stride manfully and pluck them out, one by one.
It's a cheap feeling of power, being able to root an entire maple tree just between the pointer and thumb of one hand, but I take that feeling where I can get it.
-----
Anyway,
La Semana del Arte!
continues, with some more preparatory sketches from
"Renunciation."
Remember to click for bigness!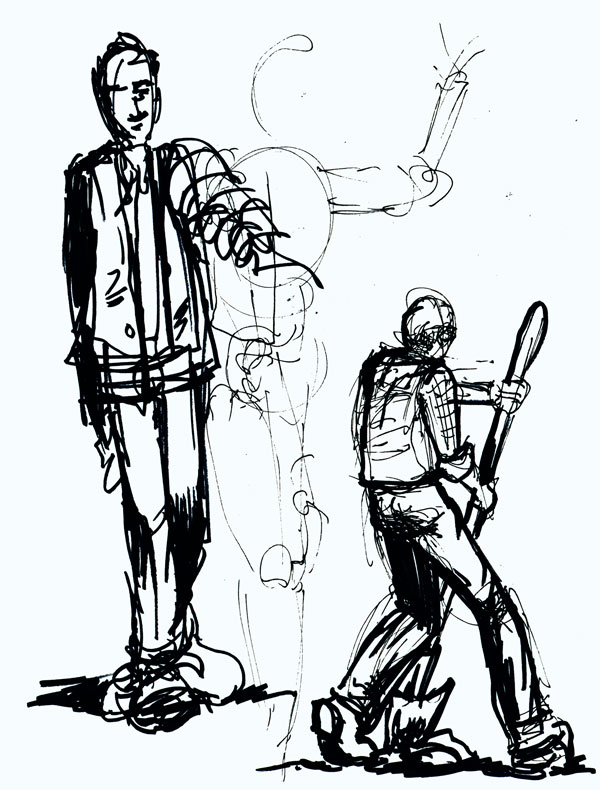 More poses with the shovel. It looks like the body english is getting a little aggressive in that bottom one. Working out some issues with that shovel, I think. Definitely out of character.
-------------------------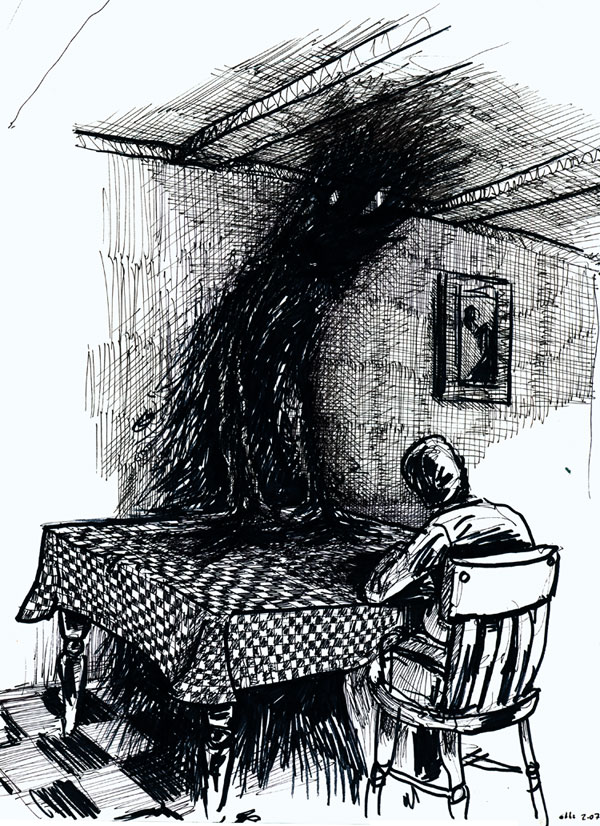 This one refers to itself as "The Spirit of Barren Harvest." Like the Spirit of Christmas Present, only for farmers, and not nearly as jolly. A good sign that something has gone very, very wrong in your life, if this is standing in your kitchen.
------------------------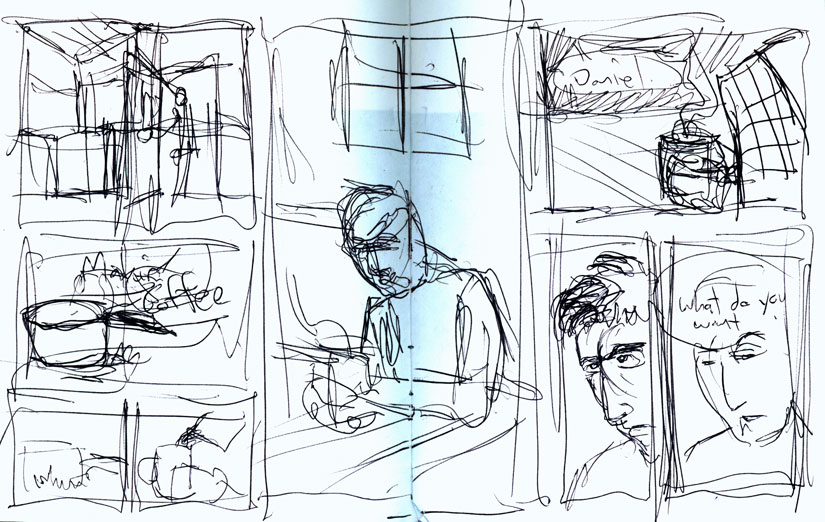 A two-page spread from the 'thumbnail' mock-up of the complete story. Most of my comics start life as one of these - I am aware of the severe lack of drawing goodness, but the point is to get the storytelling worked out first, and then do the purty pictures. Still, I may keep that dirty look the farmer gives the spirit in the second to last panel.
-------------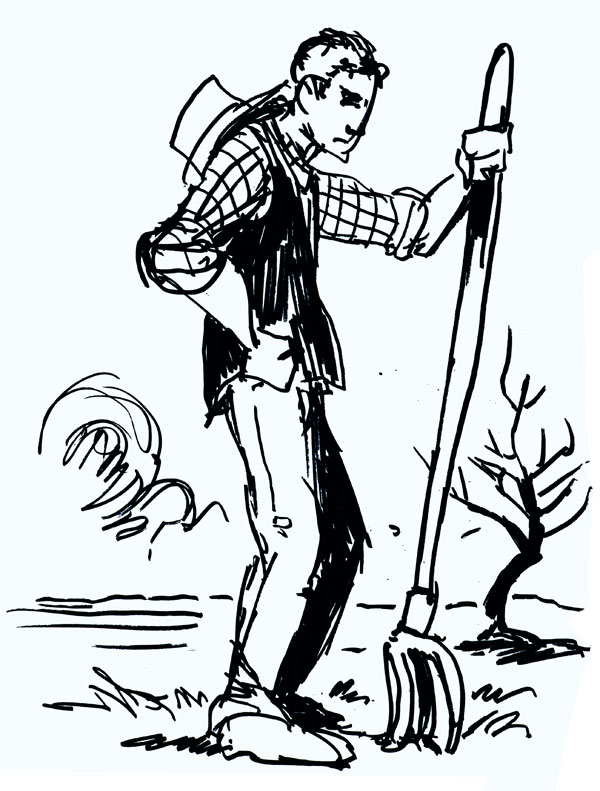 Yet again more poses with the shovel,
still,
only this time it's a pitchfork and the whole thing has a lame disco air about it. He's also looking kind of pissy, which isn't really a character trait I associate with our farmer. This is the first time I'd worked out the wardrobe, though.
-------------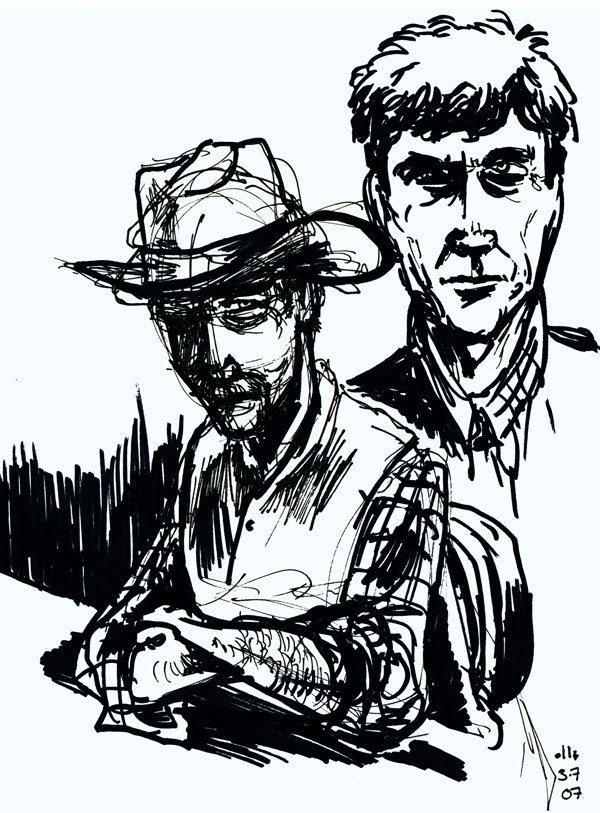 Mugshots. First, he has a mustache, then he doesn't. Magic! The face in the upper right is a 'final,' and is the one I'm using for the comic. Inspired by a quote from some depression-era photographer about the 'harsh faces' of her subjects.
--------------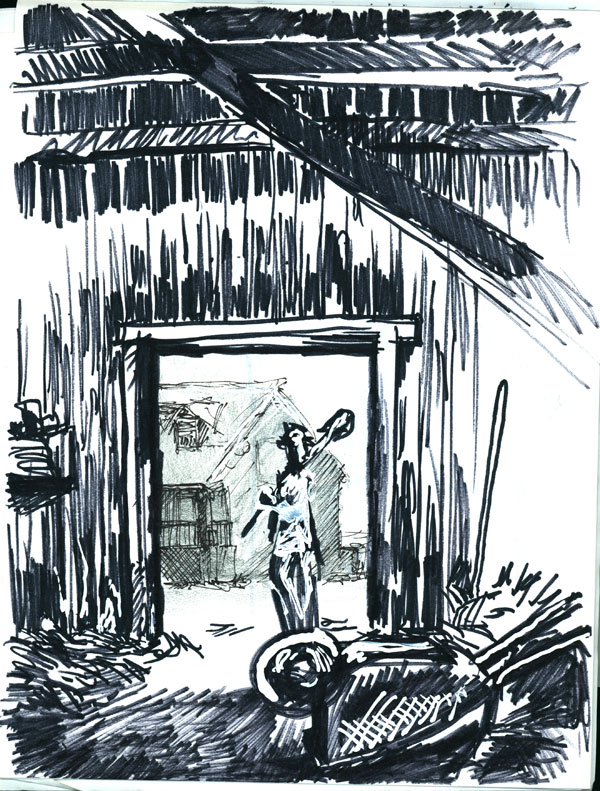 Inside the barn, where the farmer has an encounter with a territorial rooster. I'll no doubt assemble some photo reference for the final, but I do like to do these atmosphere sketches so I can nail down how I want the comic to feel. This is a lot closer in tone than any of the others, which are all either a little or a
lot
too cartoony for the story.
-----------------
And here's a prep sketch from "The Fox:"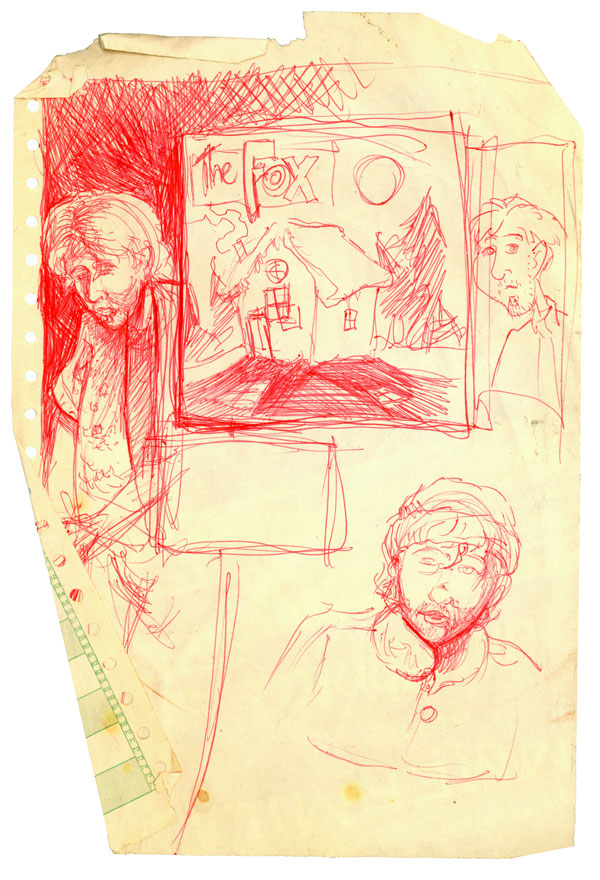 The basic layout is there, but it's clear I hadn't quite nailed down the style contrast. Also: I'm deeply embarrassed by the lameness of the 'Dave-in-Coat' in the lower right hand of the page, but I'll take it as evidence that at least my sketches have gotten better in the intervening decade+2. I know I've seen a more advanced prep for the first page of "The Fox" lying around somewhere; I'll have to see if I can track that down for the 'archives.'
The only reason I really like this one is because it's drawn on the back of some really, really old school computer paper, which my parents used to keep in a wok for scrap paper.
That's it for today. Sorry if it's a little blah - maybe I'm alone in this, but I always found these 'process' sketches from other artists pretty neat. Tomorrow, I'll put up something a little more complete, for those who prefer their art a little more cooked.
D.